Quality lower than expected for A-level work, high prices, mistakes in samples
Summary
The fact that the site doesn't make any distinction between the level a GCSE paper needs to be written at and the level an A-level paper needs to be written at is concerning to say the least. Coupled with the high prices and poor quality, Essay Hero is more zero than hero in our review.
This company is a writing service based in Great Britain that will automatically complete any work ordered to comply with the United Kingdom writing standards and will use UK English.
Top Rated Services
OxEssays.com
biggest team of writers
balanced pricing
writers verification
Services Offered at Essay Hero
Essayhero.co.uk offers a range of services including a full writing service, an editing service, a proof reading service, a re-writing service and a formatting and citation service.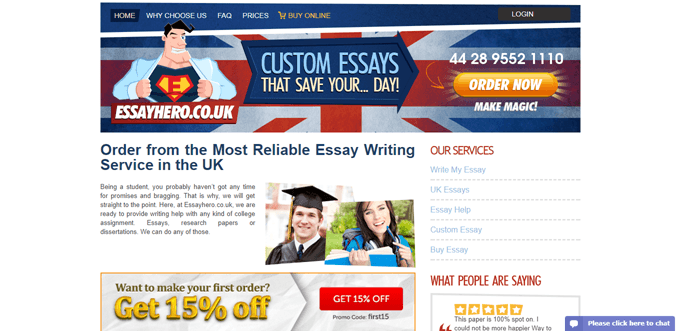 All of the services are combined when you choose a full service (which on review works out to be better value for money than choosing one or more alternative service).
The Pricing at Essay Hero
The pricing for higher degree writings is expensive compared to other services. The pricing for lower academic services, while significantly cheaper, makes you have to ask is Essay Hero legit due to the fact A-level standard work is priced the same as GCSE level work.
There are no mentions of discount codes or money off coupons, which is something they need to review as their competitors offer these. There is also no mention of a refund service.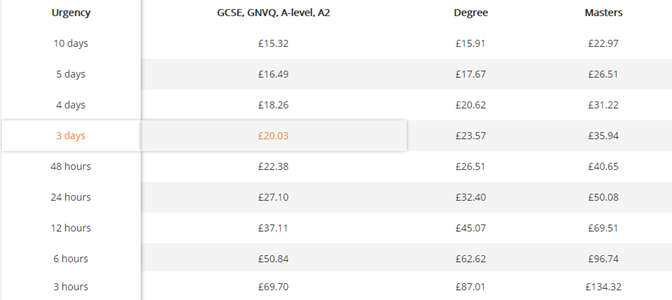 The Support at Essay Hero
While support is available, the live chat doesn't feel like you are talking to a real person. It gives generic statements that sound like a bot. This could potentially be a scam or it could be a way to save money – neither are useful to potential customers.
The other consideration is that it is a real person, but English is not their native language. Again this falls below expectations of a site that claims to specialise in UK papers.
The Quality at Essay Hero
The quality of the website needs a lot of work. It has a childish feel to it and doesn't look like the sort of website you would expect from a professional writing company.
The sample papers aren't of the quality you should receive from a professional writer. The paragraphs are far too long and many words are repeated over and over again. The font colour changes part way through too.
Even at GCSE level, the writing falls below the standard required to gain the higher marks.