Multiple unclear points about the company and provided services
Summary
The website is having multiple unclear points such as:
1) hidden pricing model when the price is calculated only after providing order details;
2) the website is having only 4 pages which is a big question for it's legitimacy;
3) no statements of custom-writing services provided, everything is rather proofreading, editing or "study assistance."
There are also no sample essays available to evaluate the expected result from the service. For now there are more reliable and open-minded alternative UK writing services who are more transparent with the information you need to make an informed choice.
College Help is a service aimed at college students in all United Kingdom colleges.
Top Rated Services
OxEssays.com
biggest team of writers
balanced pricing
writers verification
The Services Offered
College Help offers essay writing services, proof reading and editing services, plagiarism checking services and they can also provide you with study guides to help you in any topic.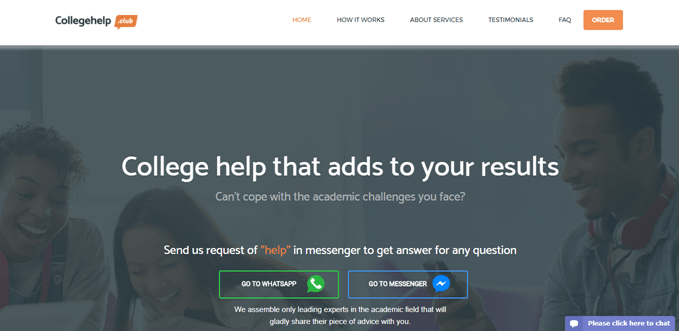 The Quality
The quality of collegehelp.club immediately begs the question is College Help legit?
The site's pages are all just replicas of the homepage, making it very difficult to get any real information about who they are, what they do or how reliable they are. Even the FAQ page is just the homepage again.
They do share customer reviews, but there is no external link to reviews to prove their legitimacy.
The Pricing
This site is pretty cheap. You can get a 5,000 word dissertation starting from just over £300. Although it's cheaper than some alternative sites, it's still a lot of money to just hand over.
The site does offer money back guarantees if you're not satisfied, but there's no information on how this works.
There is no mention of discount codes or coupons.
The Support
The main support they offer is through What's App or Facebook Messenger. This isn't great as offsite chat means there's no official record of conversations you have. They will send you a username and password through these messaging services to login to the website rather than letting you create an account on the site.
There is onsite chat available, but it reads like a bot, not a person in the UK.